Warnell Convocation 
Warnell's convocation takes place every fall and spring semester. The ceremony, which includes both undergraduate and graduate students, takes place at the Classic Center in downtown Athens. Graduating students receive tickets for friends and family upon completion of their exit survey (this is emailed from advisors, and these instructions will be made clear to all graduating students each semester).
Fall Convocation
12:30-2 p.m. on the Friday of UGA's fall undergraduate commencement
Spring Convocation
3-4:30 on the Friday of UGA's spring undergraduate commencement
UGA Commencement
For the latest information on undergraduate and graduate ceremonies for the University of Georgia, please visit the official Commencement website:

Celebrating our graduates
To celebrate our graduates and the Warnell experience, we created a series of downloadables for students, alumni and friends of Warnell.
Warnell Coloring Pages
Warnell Bingo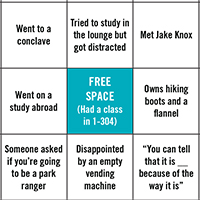 Download your own bingo card and play with your friends!
Update your Contact Information
We want to stay in touch! Please take a moment to share your current address so we can include you in future mailings.
Upcoming Warnell Events