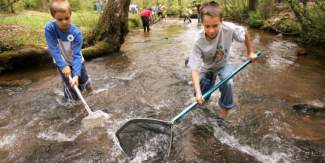 There is a growing need for outdoor lessons in schools and more educational experiences connecting people with the outdoors. To help meet that need, Warnell offers instruction and training in environmental education.
This research area works to develop new ways of learning that incorporate the outdoors and natural resources. Graduates pursue jobs at summer camps, 4-H centers, nature centers, museums, science centers, aquariums, zoos, state and federal natural resource agencies, and municipal and county parks and recreation departments.
Graduate Degrees in Environmental Education
This area dovetails with Warnell's Parks, Recreation, and Tourism Management major through a variety of electives, and also can be pursued as an Environmental Education Certificate in conjunction with the UGA College of Agricultural and Environmental Sciences. The certificate program will also help students develop science and communication skills that will enhance their teaching abilities and their ability to communicate about the natural world. The requirements for the certificate are aligned with the professional development standards established by the North American Association for Environmental Education and the Advanced Training for Environmental Education in Georgia certification.
CURRICULUM
Environmental Education can be pursued under the MNR, MS, and PhD degree programs. To pursue Environmental Education as an official Area of Emphasis (MNR only), the following courses are required as part of the official program of study:
|   | Course ID | Name | Hours* |
| --- | --- | --- | --- |
| Required: | FANR 6444S | Foundations of Environmental Education | 3 |
|   | ALDR 8150 | Program Development | 3 |
|   |   |   |   |
| Electives: | PRTM 7800S | Environmental Interpretation | 3 |
|   | PRTM 7980/8980 | PRTM Problems | 1-3 |
*Total of 9 hours required for the area of emphasis
Questions?
For general questions about pursuing a graduate degree at Warnell, contact a member of the graduate team:
Dr. Jacek Siry, Graduate Coordinator
Office: 4-501
Phone: 706-542-3060
Kate deDufour, Graduate Program Administrator
Office: 1-217
Phone: 706-542-1183
Prospective students should also contact faculty members for questions specific to this disciplinary area. Please check faculty members' personal pages for information about their individual research interests and projects to ensure that you are contacting the most relevant ones.