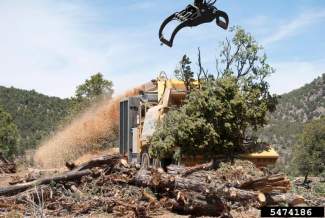 Our research priorities focus on issues critical to all aspects of forest business, and especially sustaining and enhancing the competitiveness of Georgia's wood fiber supply.
This research area closely aligns with the UGA Center for Forest Business, which integrates pioneering academic research and sound financial methods to provide education and service to the forest industry, investors, and landowners throughout the world.
Learn More About the UGA Center for Forest Business
Graduate Degrees in Forest Business
Warnell's graduate program in Forest Business combines advanced business courses and forestry work to prepare graduates for a diverse array of high-level career paths. In partnership with the Terry College of Business and other programs, Forest Business course offerings include accounting, finance, and forest business management and planning. Elective courses may be taken from a variety of MBA-level courses or courses in forest resource management.
Graduates of the Forest Business program can pursue careers in a number of fields, including consulting, lending, conservation, procurement, and economic development. Other possibilities include policy and academia.
CURRICULUM
Graduate students in the Forest Business program learn the basics of accounting and finance, and may take courses in real estate, negotiation, and supply chain management. Students pursuing a non-thesis master's degree will be expected to obtain one or two summers of experience in land management, wood procurement, resource analysis, or other area with an established forestry company, real estate investment trust (REIT), timberland investment management organization (TIMO), state or federal agency, or forestry consultant. When a master of science or doctorate is pursued, students are expected to conduct research on forest markets, forest biometrics, forest management and planning, and other forest finance or administration topics.  
Most students in the Forest Business Management program pursue the Master of Forest Resources (MFR) degree. MS and PhD programs also are available. To pursue Forest Business as an official area of emphasis (MFR only), the following courses are required:
MFR Forest Business requirements
Questions?
For general questions about pursuing a graduate degree at Warnell, contact a member of the graduate team:
Dr. Jacek Siry, Graduate Coordinator
Office: 4-501
Phone: 706-542-3060
Kate deDufour, Graduate Program Administrator
Office: 1-217
Phone: 706-542-1183
Shira Hersonsky, Graduate Administrative Assistant
Office: 1-217
Phone: 706-542-1183
Prospective students should also contact faculty members for questions specific to this disciplinary area. Please check faculty members' personal pages for information about their individual research interests and projects to ensure that you are contacting the most relevant ones.