Opportunity to take part in international project offered new perspectives on research
The cloud forests of Mexico hold many secrets.
Occasional visitors to these lush forests—unique ecosystems located in high elevations—are welcomed by sprawling tree canopies, the tunes of dozens of exotic birds and dense, vibrant bromeliads on the forest floor teeming with life. It's a place where tropical plants and animals mingle with cool temperatures, making the forest seem otherworldly.
It's here, in the dappled light and cool air, that former Warnell students began their search.
"The terrain was difficult," said Sidney Woodruff (BSFR '17), who traveled with another recent graduate in 2019 to assist with a study to identify a new species of lizard, Abronia morenica. The project was coordinated by Adam Clause (PHD '18), whose doctoral dissertation focused on Abronia lizards made him uniquely qualified to be part of a team documenting this tree-dwelling lizard's existence.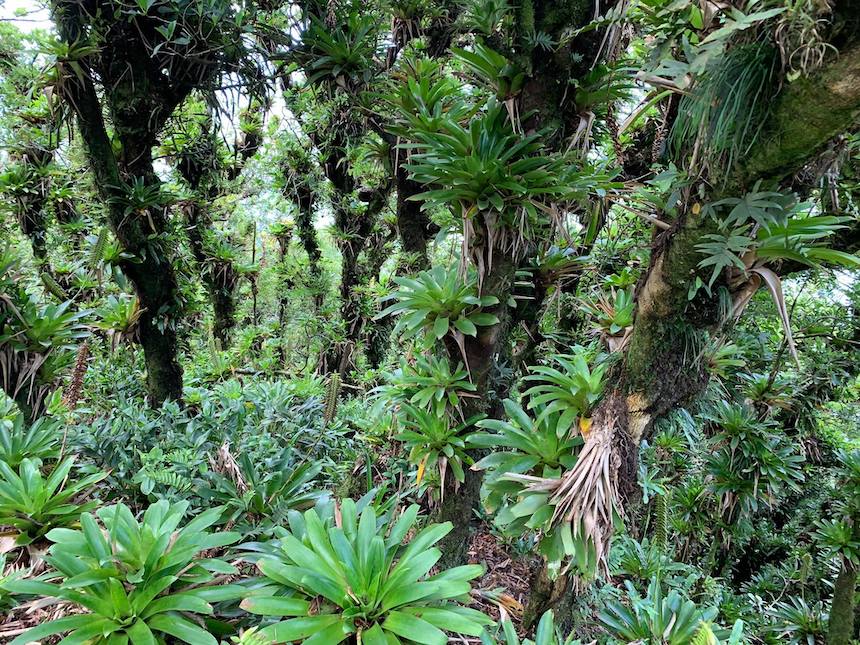 "I've done herpetology work before, and we have a systematic way of sampling them. But I had never formally worked on a lizard project," added Woodruff. "We were standing about 15 meters apart and sweeping along a line. We were looking on the ground but mostly looking in the trees. Additionally, in this cloud forest, it was unique to see vertical heterogeneity—the entire forest is covered in some kind of plant. It has this tropical feel to it, even though it was cold, and the trees are covered in epiphytes and bromeliads. And then you're trying to look for this lizard in there."
The entire experience—from navigating research requirements in a foreign country to working alongside local collaborators to searching for a newly discovered animal you've never seen before—was new for Woodruff and Maisie MacKnight (BSFR '18), who were part of the search team in 2019. The previous year, Warnell alumni James Hunt and Connor Lake also had the opportunity to take part in the project.
The experience was both unexpected and expected. The trip, the goal and the surroundings were life-changing, the former Warnell students said. But in the world of natural resources, you never know where your next adventure may await—and that's what made the trip a perfect coda to their time at the University of Georgia, MacKnight said.
"If someone was interested in a trip like that, and they take the initiative to build relationships with mentors, it's not outside the realm of possibility," she said. Not long after she came to Warnell, MacKnight was introduced to the world of salamanders—and fully embraced them. She began working on a variety of projects through professor John Maerz's Herpetology Laboratory, which is where she came to know Clause. Clause also served as an instructor, and the connections he made with students later proved beneficial as he planned the research trips to Mexico.
"I was fortunate enough to go on this trip because I had regularly interacted with Adam in the past, so he knew I was enthusiastic about herpetology and I was interested in field work," she added. "And when Adam extended the opportunity, he said, I want to emphasize that we need more research in Mexico, so if you're interested, think about the ways in which you could create a project and come back in a few years. So that was another big motivator in inviting me."
Now a doctoral student at the Pennsylvania State University, MacKnight is researching the effects of climate and weather on salamander movement and population dynamics. Since the trip, MacKnight has been formulating research questions that relate to Mexican herps and has made contact with some of the project's local collaborators.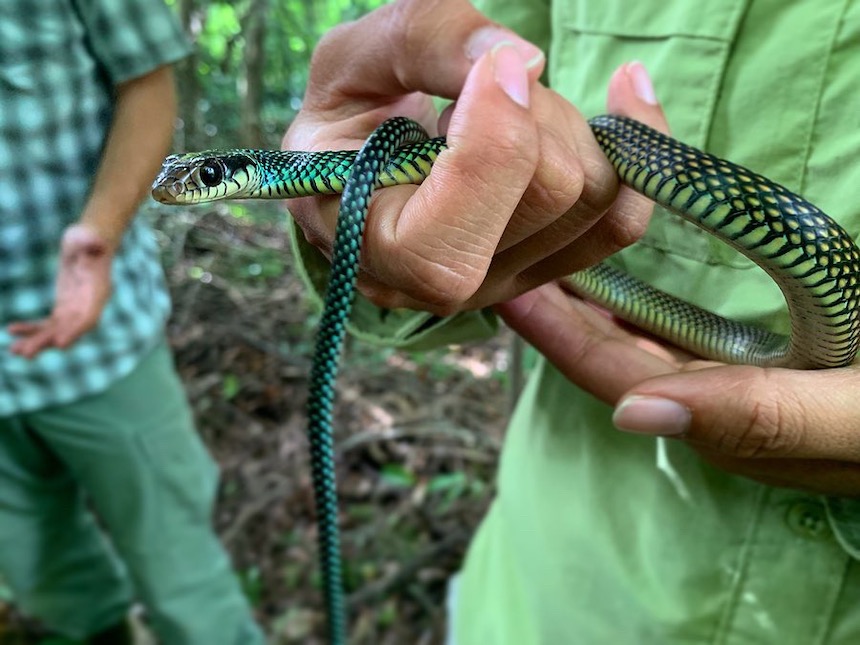 Woodruff also continues to be inspired by the trip. She is now a Ph.D. student at the University of California-Davis, where she is investigating the effects of invasive bullfrogs on native reptiles and amphibians in Yosemite National Park, where she also works as a wildlife park ranger. She said the trip changed her view of how to conduct research.
"It changed my perception of research where I don't want it to be this extraction—dip into an area, profit in some way, and dip out," she said. The project involved both American and Mexican experts, including residents of a nearby village who served as caretakers of the species. What was important to everyone on the project was creating a path forward that worked in concert with the local community.
MacKnight agreed.
"Something I learned on that trip that is really valuable in thinking about fieldwork is personal relations and the importance of permitting and asking for permission instead of forgiveness," she said. "We're going on their land. We're outsiders, so treating the area with respect and emphasizing the opportunities for reciprocity is something I've been thinking a lot about. How can I apply these different values, that Adam really emphasized, in my research?"
While documenting a new species is cool, said Clause in an interview with Warnell in 2020, it's important for the researchers involved to look at the larger picture. Use the hype about a new species to generate excitement about conservation in general, he said, and then consider the sustainability of that support.
"Use that to create support for larger initiatives for greater sustainability and ultimately helping people," he said. "It's not just about the species, it's what this species means for this community. It's the only community in the entire world that supports this animal, and for them, it's a source of great pride and they want to share this species with the world and continue to do their part to protect it. And that's a great message this new species helps to get out there."
We now know the Abronia morenica grow to about 8 to 10 inches long and live their entire lives in trees. They have a subtle stripe of yellow-orange spots running down their sides, dark brown mixing with tan coloring their backs, and smooth, spotted scales across their heads. Their long tails wrap around branches to help them hold on.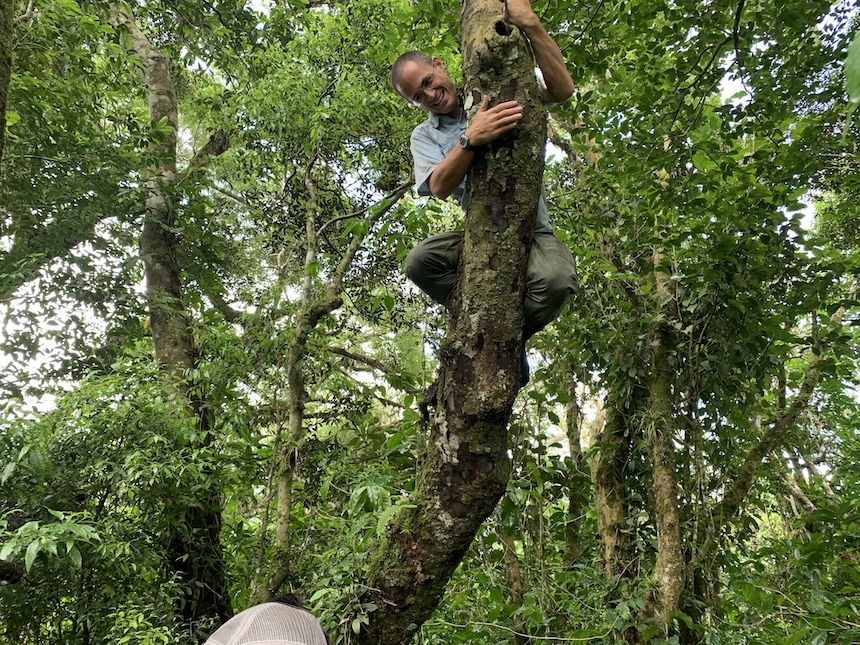 But for researchers like Woodruff and MacKnight, these descriptions seemed as abstract as the words on a screen. They had never seen one in real life. Add to that the fact that other tree-dwelling lizards also lived in the area, and searching the branches in a mystical forest seemed like a Herculean task.
After two weeks examining bromeliad leaves and sun-dappled tree limbs, they finally got lucky.
"It was the last day before I was flying out. We were doing our transects and all of a sudden we hear Adam yell that he saw one—but we didn't want to come running," said Woodruff. "We're all standing there waiting for a few minutes, and then you hear this noise as he's trying to capture it."
For several tense moments, they waited as Clause gently looped a lasso over the head of what he found: A small hatchling, just a few inches long.
"So, Maisie and I ran up and we were like, 'Oh, sweet, we finally found it.' And Adam was like, No, we are the first people to see a hatchling in the world,'" Woodruff added. "And that's when Maisie and I were just like, 'Woah.'"