Evidence of diseases sheds new light on fledgling mortality
Across South Florida, wildlife find ways to thrive in some of the unlikeliest of places.
Take, for example, the islands of trees in the middle of man-made lakes, often found as part of golf course communities. These small spaces can house a variety of water birds, including the American white ibis. Their nests usually sit on palm trees, but can also hover over the water and, during breeding season, can house as many as four chicks per family.
There's evidence that ibis reproduce on these islands just as well as they do in the Everglades, their native habitat—possibly even better. But while ibis seem to be able to thrive in urban environments, there are trade-offs to this adaptive lifestyle. For example, ibis living in urban environments are more likely to carry salmonella than those in natural wetlands, and this may pose a risk to urban nestlings.
To get a better picture of how avian influenza, salmonella and other diseases affect newly hatched ibis, Julia Silva Seixas, a master's student in the University of Georgia Warnell School of Forestry and Natural Resources, has been traveling to South Florida for the past two summers to understand if urban habitats provide suitable breeding grounds to the white ibis. She works with another master's student, Katherine Christie in UGA's Odum School of Ecology, and they are part of a team studying the effects of urbanization on ibis, an iconic bird that's just as ubiquitous flying low over Florida's undeveloped grassy wetlands as it is strolling through neighborhood lawns and parks. As part of this multi-year study, she and her team have been examining trends among birds that nest at a recently established rookery in a South Florida golf course community.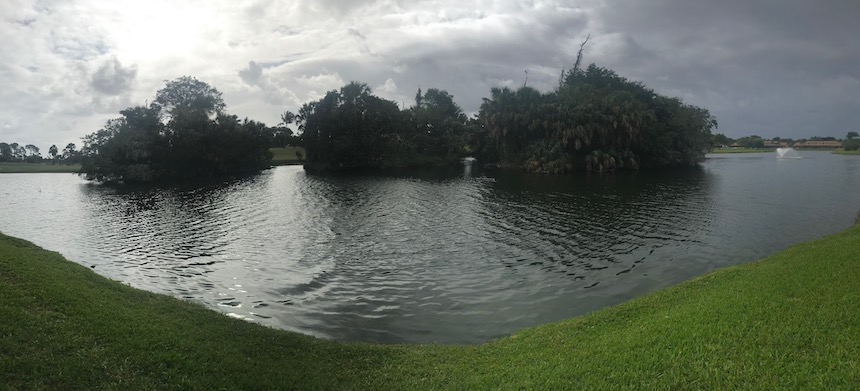 "We wanted to investigate disease exposure in nestlings because ibises are known reservoirs for avian influenza, and they have the ability to become infected with and shed the virus," said Seixas. They have not been able to isolate avian influenza viruses from urban adults, however, they detected a high prevalence of antibodies to the disease. "Therefore, we came to the hypothesis that these birds might be getting exposed to the virus very early on, as nestlings, and then showing limited shedding upon infection as adults."
Salmonella is also a cause for concern. The students were able to collect samples from 36 chicks at the rookery, where more than half of the samples tested positive for salmonella. Eighty-one percent of chicks tested positive for salmonella at least once. Seixas also found a relationship between the prevalence of salmonella and the age of the bird. For example, 54% of birds less than a week old tested positive for salmonella, compared with 42% of fledglings, or birds approximately 20 days old.
"We also analyzed the salmonella samples to determine how many serotypes were represented there," added Christie. There was a high diversity of salmonella types. "It seems like these ibis start getting infected with many strains of salmonella at a young age, but so far we haven't seen them dying from it like some other species do."
Christie also tried to isolate avian influenza virus from the nestlings. "So far we have never found an ibis of any age with an active influenza infection, but when we look at their antibody prevalence it is very high," she said. "So, the adults are getting exposed at some point in life and develop these antibodies, but the infections must either be very rapid or happen at a life stage we don't sample as much."
Analyzing the nesting samples had been an attempt to find those elusive infections, but so far it seems like these birds normally do not get infected with influenza as nestlings.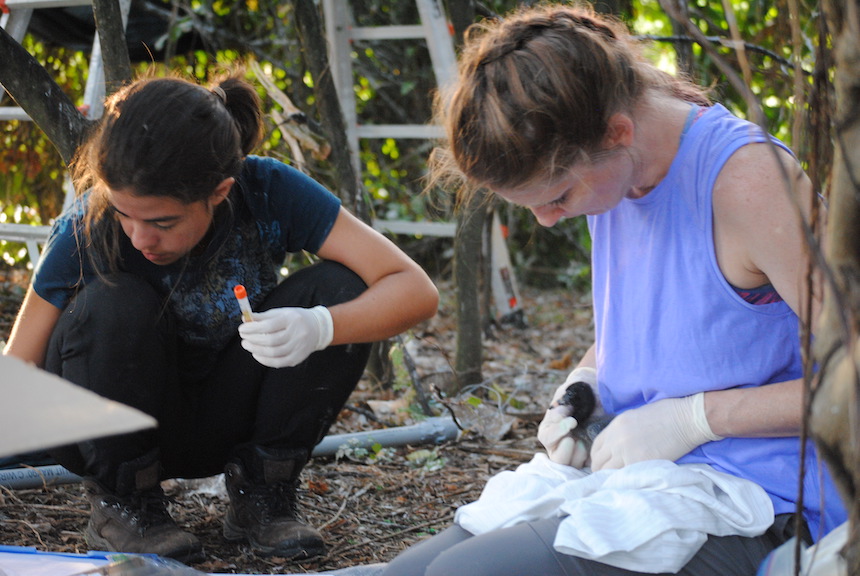 Seixas and Christie are also testing ibis nestlings from natural colonies in the Everglades for both influenza and salmonella this year to compare infection rates and exposure to disease between urban and natural chicks. With this effort, they hope to elucidate some of the trade-offs associated with breeding in these different habitats.
Disease is one of several reasons why hatchlings die; others include parental abandonment, starvation or severe weather elements. Last season, said Seixas, three chicks also died of West Nile virus—an interesting development that adds to the mix of possible morbidities affecting young ibis.
"This was interesting because West Nile infections are poorly documented in free-living aquatic birds," said Seixas. And while this is partly due to limited access researchers have to island rookeries, she added it's important to know when these types of diseases are circulating in the area. "It means West Nile is circulating there, but we don't think these birds are a risk to people—they are more of an indicator."
Even so, Seixas said she and the other researchers came to the conclusion that ibis can develop West Nile disease—and die from it. And it's possible more deaths might have come from that rookery, she added, as 23 additional chicks disappeared or were found dead, however their carcasses were not suitable for diagnostic evaluation due to their advanced state of decomposition.
"It's possible that additional West Nile virus infections occurred at the urban colony, we just missed them," she said, noting that last year had high West Nile virus activity in south Florida, and there isn't evidence to compare urban bird deaths with those in natural wetlands—where mosquitos carrying West Nile virus may also be present.
While more study is needed—and Seixas plans to spend more time this summer gathering additional data from the urban rookery and also in the Everglades—she said there are already clear public health lessons we can take from urban ibis.
"Remember, this site is located within a golf course community, primarily occupied by the elderly, which is one of the groups at high risk of developing the disease," said Seixas. "And with this information on nestling mortalities, we can alert public health officials and inform the community on the occurrence of West Nile virus."