If you're looking for the most interesting path, just follow Walter Cook. 
The former parks, recreation and tourism management professor has been devising trails for decades, and even in retirement he continues to leave his marks on natural spaces across Georgia. Cook retired from his faculty position in 1996. 
Last fall, family and friends gathered to celebrate Cook's 90th birthday and were reminded of the legacy he's left on undeveloped spaces across the state. Not only is he the namesake for Cook's Trail, which connects Sandy Creek Park with Sandy Creek Nature Center in Athens, but his paths can be found at state parks, wildlife management areas and privately owned land. His trails take visitors to the Hike Inn in North Georgia and lead artists and musicians around the Orange Twin enclave in Athens.  
For the party, each project was printed on a separate piece of paper and laid end to end, more than 130 in all. The list snaked through the pavilion at Sandy Creek Nature Center. A trail of trails. 
Even today, he continues to carve out pathways for others to enjoy natural places. Not long ago, Cook was among a group of volunteers who gathered to walk the trails—some cleared, some marked with colored tape—at Tallassee Forest, a 310-acre stretch of publicly owned land on the western edge of Clarke County. 
Cook is out at the property nearly every day, clearing leaves from the trails and fine-tuning the path. He walks with just a few tools—a rake, an ax and a pocketknife—plus his dog. He has a plan and follows the path markers he's already set out. Every day, he makes a little more progress. 
"Designing a trail is something I want to do," he says. "If I'm going to have a part of it, I want to be the one that lays it out, because that's the most important part." 
Some have said his knack for devising trails is almost naturally intuitive, as if he can walk into a forest and immediately see the best way to walk through it. But if you ask him about this, he'll just modestly shake his head.  
Rather, his guide, "Designing and Building Trails," delves into his methodology. Because a trail is much more than getting from point A to point B. It's a process that starts with understanding the land and continues past the many reasons for designing the trail, such as a place to introduce folks to nature, a place for new discoveries or simply a place to walk that's not paved. 
Cook wants to be part of the entire process. During the visit to Tallassee Forest, Cook guided a group down paths he had cleared by himself just the day before.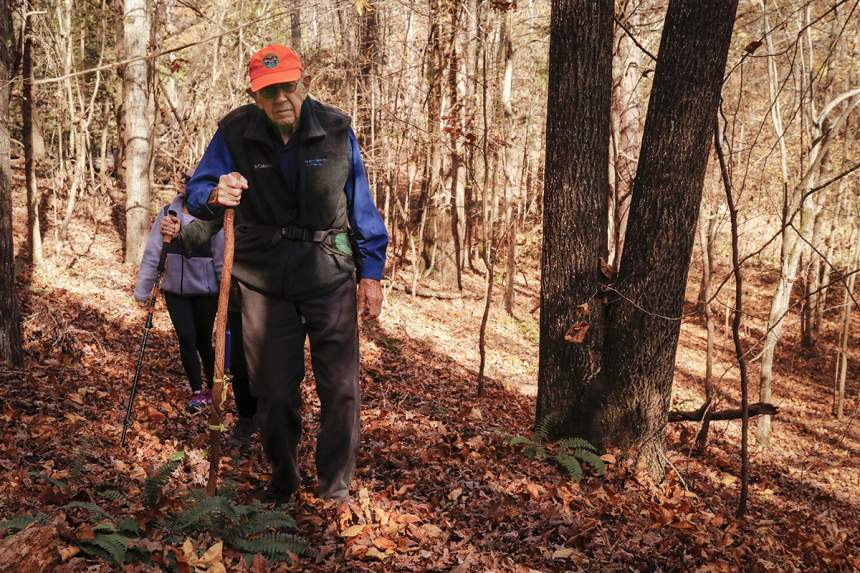 On a typical day he toils for hours, winding his way through trees and, on occasion, cutting into hillsides (although he'd prefer not to). Trails, he says, should bring a visitor past interesting stops or to a particular destination. For example, one trail in Tallassee Forest winds past streams and cuts across an old farming road, leading to an earthen dome. Along the way you pass extensive holly groves and thick beech trees.  
Many people are curious about the unknown, Cook writes in his guide to building a trail, and will always wonder what they will see around the next bend.  
As he starts his ninth decade, Cook is continuing that path and navigating whatever turns he encounters. "A foot trail must have a reason for being," writes Cook, just as these trails give Cook a good excuse for one more day out in the woods.