Understanding the state's black bear population involves tree-climbing skills, technology and custom-made traps 
Cat Carter picked up a stick and, very carefully, poked the bear. 
Usually that's a risky move. But in this case, she was playing it safe. As the bear lay on the floor of the trap, breathing slowly but deeply, Carter had to be sure the tranquilizer had taken effect. 
About 40 minutes later Carter, a master's student at the University of Georgia Warnell School of Forestry and Natural Resources, had collected DNA samples, placed ear tags and a PIT tag on the animal and fitted it with a GPS collar. Then, working with two other Georgia Department of Natural Resources wildlife professionals and a UGA hourly assistant, she gave it a shot of reversing agent to undo the effects of the tranquilizer. 
She and Adam Hammond (BSFR '96), bear project leader for Georgia DNR, waited for the bear to wake up. "Go on! Get out of here! Get!" they yelled as the bear tore out of the metal trap and into a patch of brush down the hill. 
All told, it took about an hour to gather the information the crew needed. That bear was one of 80 they began collaring and tracking in 2019 as part of a three-year project to understand the effects of hunting North Georgia's bears with dogs.  
In addition to the North Georgia study, Warnell is now poised to gather even more information on Georgia's black bears. Working with Georgia DNR, faculty and students are preparing to lead a team of researchers in central Georgia; there's also interest from Georgia DNR to study bears around the Okefenokee Swamp.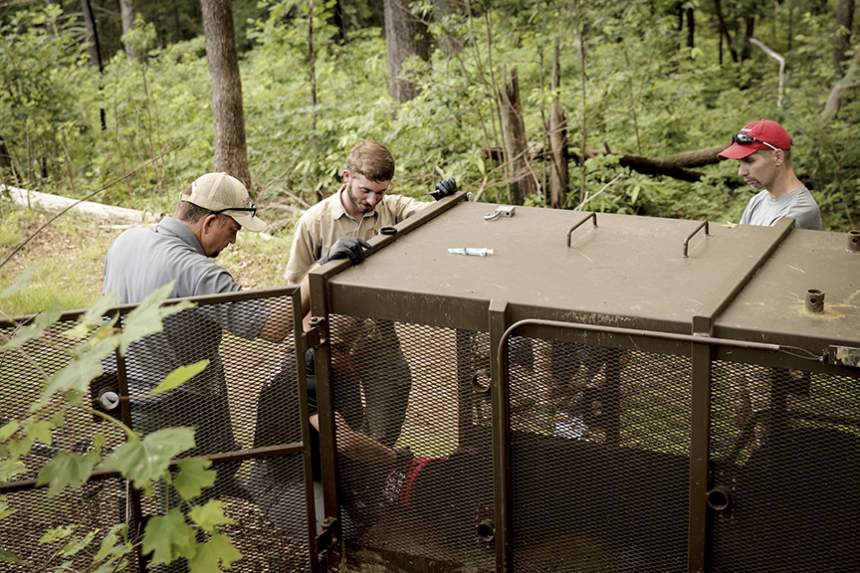 It's a series of opportunities to understand more about Georgia black bears than in recent decades, combining faculty members' skills with once-in-a-lifetime training opportunities for students. 
"I was familiar with black bears, because I would see them from time to time in Colorado. But in truth, I didn't know a lot about the specifics of Georgia's black bear population; my time with Cat and Adam has been invaluable in building up my knowledge of these creatures," says Ben Carr (BSFR '21), who is part of the Georgia DNR team collecting data in North Georgia. This summer, Carr begins a pilot project in central Georgia, and will be a master's student this fall as the full project kicks off. 
"Now I get to work on the most geographically and genetically isolated population in the state," he adds. "I went from hardly having done any work with large carnivores to being able to immobilize a 400-pound bear in a tree." 
THE THREE BEARS 
Black bears used to be abundant across the Southeast. But when colonial settlers moved onto the land and cleared hardwood forests, it removed their habitat and decimated their populations to the point where only pockets remained, says Michael Chamberlain, the Terrell Distinguished Professor of Wildlife Ecology and Management at Warnell. 
Protections and improved habitat have helped some bears recover in recent decades. "And the landscape is conducive to a generalist diet," adds Chamberlain. "Black bears have a broad diet; they're the definition of an omnivore."  
As a result, three populations remain in Georgia: one in the North Georgia mountains, one in central Georgia southeast of Macon and one around the Okefenokee Swamp in southeast Georgia. The northern and southern populations blend into neighboring states, which helps boost numbers and genetic variation. But the central population remains cut off from the others—a fact underscored by a recent analysis by Chamberlain's lab, which found it was statistically impossible for the North Georgia population to mix with the central population due to large roads, cities and fragmented habitats.  
"The central Georgia bears, that's the smallest population we have. They are completely isolated genetically from the other populations," says Chamberlain.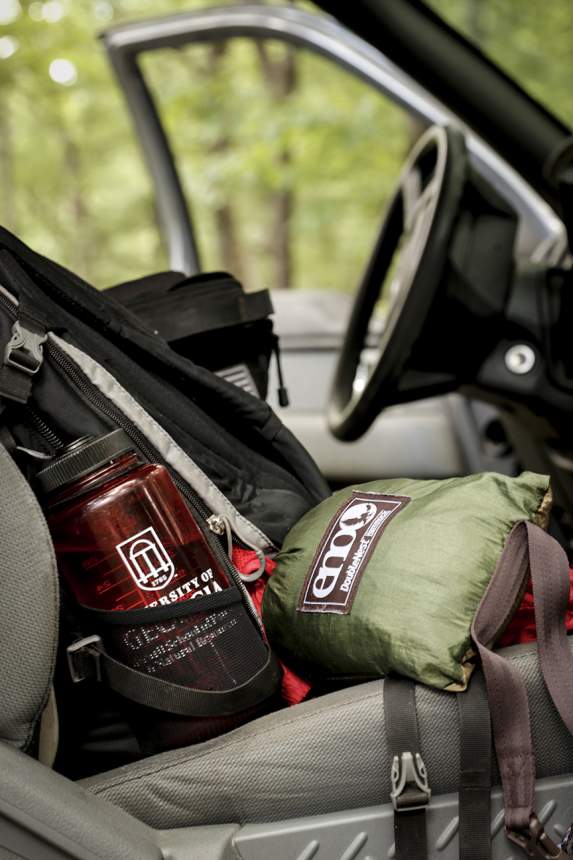 Most of what we know about these bears comes from a study led by Chamberlain about six years ago, in anticipation of the state's plans to widen Ga. Route 96, an east-west road that connects I-75 and I-16. The road also cuts through the central Georgia bear's range, and Chamberlain and his team were able to suggest changes that would help with bear mobility (and save the state some money).  
With the upcoming study, Hammond, Carr, Chamberlain and other Warnell experts will gather hair samples and use a mark-recapture method to gauge the overall size of the population. The analysis will help satisfy Georgia DNR's bear management plan and offer insights into the effect, if any, that the limited hunting in that area has on bear numbers. 
"They don't harvest many bears, but no bears have been brought in either, so they are trying to better understand if the population is stagnant, declining or increasing, and what does genetic diversity look like compared with five years ago?" says Chamberlain. 
GOING ON A BEAR HUNT 
Least is known about the bears living around the Okefenokee Swamp, but that population also has a long and unique history with bear hunting, specifically hound hunting. While bear hunting with rifles or archery equipment is common across the country, hunting with dogs is even more niche.  
In South Georgia, large groups of houndsmen gather annually for the brief but intense South Georgia bear hunting season. Hunting with hounds around the perimeter of the Okefenokee is more than just a hobby, it's a lifestyle and a long-standing tradition that often involves the entire family—men, women, young and old alike. Hunting bear with hounds in South Georgia opens up parts of the swamp that might otherwise be unreachable for bear hunting. 
Starting in 2019, the practice was allowed in North Georgia too, with limited access through a lottery during a designated period. Some of the same hunters in South Georgia travel with their dogs up to the mountains for the "new" opportunity. But because few studies have been done on hunting bears with dogs, there is still much to learn about the possible effects on bear populations. 
The current study hopes to change that. 
"Bear-dog hunting is incredibly efficient in terms of how many bears you can work in a short amount of time," says Michel Kohl, assistant professor at Warnell and Carter's advisor. He is also providing data analysis support for the project. 
In an average year, hunting—archery, rifle and dog methods—might yield 300 to 400 bears total in north Georgia, says Kohl. A nine-day dog hunt can harvest 50 bears, though. "So, dog hunting is a very efficient way to harvest the population." 
Still, there seems to be a large number of bears in the mountains. Human-bear conflicts can be challenging to resolve, whether with permanent residents, businesses or vacation rentals. Right now, dog hunting is allowed for bears on the Chestatee and Chattahoochee wildlife management areas, but if the numbers support it, it could be expanded. In the Southeast, says Kohl, this study will be the first new information uncovered in 30 years, and one of only two studies ever conducted in the region.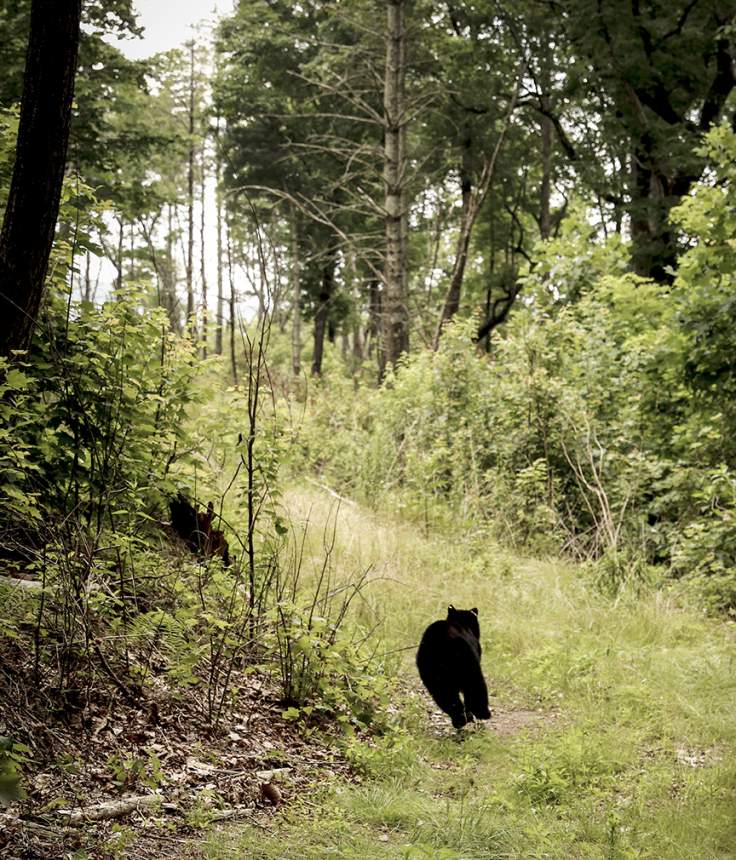 NEW EXPERTISE 
As students and recent graduates, Carter and Carr are also unique: They are among a select group of wildlife professionals with experience trapping and handling bears.  
It's not a skill everyone knows; even Carter and Carr came upon the job in unique ways. 
"I wanted to study carnivores as an undergrad, but everyone wanted to study carnivores, so I was pretty realistic (after graduation) and tried to apply for jobs that sounded fun," says Carter, who received her bachelor's from the University of Tennessee. "One of my professors sent me an email with someone she went to college with, who was the bear biologist for Georgia. It was only supposed to be a six-month job at first, but it ended up getting extended and then I realized I was working with my dream animals." 
Carter knew she wanted to get her master's degree, so after about a year and a half, the opportunity to work on the North Georgia study as a graduate student was too good an opportunity to pass up. 
Now, Carr is taking a similar route, entering graduate school at Warnell this fall while serving as the point man on the central Georgia bear project. When he first came to Warnell, Carr was a pre-vet major. "Never in a million years did I think I'd get to work with bears," he says. 
As an undergraduate, he met Carter through a shared lab. Curious about her work, he came out with her one day. 
And the rest, they say, is history. 
Carr met Hammond during a bear hunt in 2020 and was then hired to assist with fieldwork in the winter, spring and summer of 2021. During that time he took part in den checks, learned to immobilize the animals and even practiced the art of using special gear to climb into a hollow tree for information on cubs and mothers. 
"They're just so cool," says Carter. "They are really interesting—their homing tendencies are really interesting to me. You can move a bear over 90 miles away and it will be back in two weeks—that's insane." 
But at the same time, it's important to have a healthy fear of bears. 
"A lot of people see bears and think, 'Huge carnivores! Roar!' but I see them as large raccoons—they're just opportunistic," she says. "Wild bears are dangerous animals, and there's a healthy fear that needs to exist. But it's really interesting to experience them as we do; they mostly eat insects and berries and plants, and don't like to work for their food—as most of us don't." 
Both Carter and Carr recognize they are part of a small family of bear professionals. The amount of people who can work up a bear in a tree is even smaller, notes Carr.  
As an undergraduate student, he says, he learned the basics of field work and techniques. Now, he recognizes the new challenges of being a graduate student. 
The number of bear professionals might be small, but through the current and upcoming projects, that pool of expertise will widen with new students and new opportunities. 
"You never stop learning—as an undergrad you are working with the knowledge that's already there," says Carr. "But in graduate school you're trying to find answers—how abundant are the bears here? What do the genetics look like? How can we best alleviate that genetic stress? It's all based off questions, not answers."