When Whitney Kistler and Barbara Shock take undergraduate students into the field for conservation biology classes, they make a point to discuss ticks and other disease vectors. 
Ticks are common around Lincoln Memorial University in Tennessee, where Kistler (MS '10, PHD '14) and Shock (MS '10, PHD '14) are both associate professors. But as graduates of the wildlife ecology and management program at the University of Georgia Warnell School of Forestry and Natural Resources, the lesson goes beyond one of public safety—they also want students to understand the role ticks and other disease vectors play in ecological systems.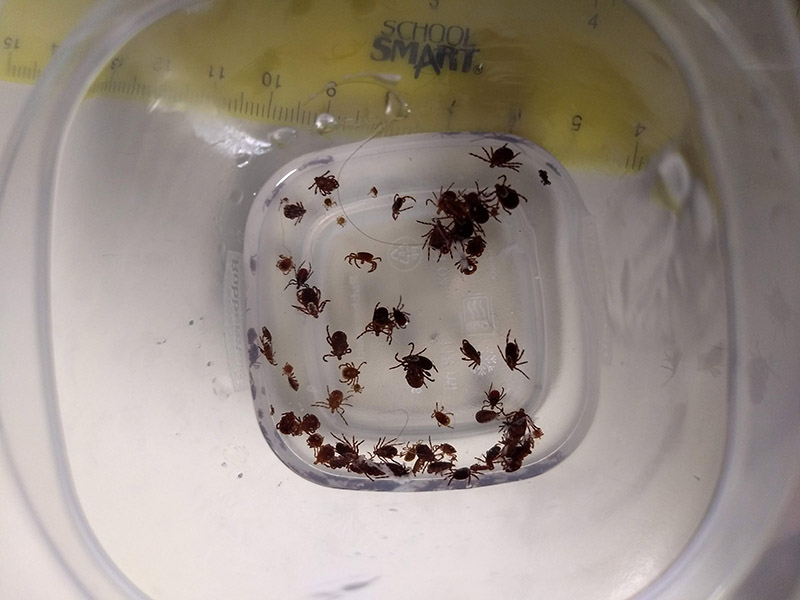 "Our upper-level wildlife disease class is a good example of introducing One Health at the undergraduate level," says Kistler. "When the pandemic started, although students were aware of zoonotic diseases, many did not make the connection that understanding wildlife ecology is important to understanding disease transmission in human populations." 
At Warnell, Kistler, Shock and others not only investigated the many ways pathogens can affect wildlife, but also the ways viruses, parasites and more can cross from humans to animals—and vice-versa. The overall concept, called One Health, is woven into undergraduate wildlife pre-veterinary sciences classes at Warnell, as well as graduate programs in wildlife ecology and management. 
One Health recognizes the connections between human, animal and environmental health. Students at Warnell are uniquely positioned to gain expertise in these connections through faculty research, coursework that focuses on ecosystems and a collaborative lab: the Southeastern Cooperative Wildlife Disease Study (SCWDS) in the UGA College of Veterinary Medicine. 
"One Health is a triad is because you have three elements: human health, animal health, and environmental health. But not everyone thinks about the environmental health part of the triad," says Shock. "And that's where a degree from Warnell can introduce you to this knowledge."  
For example, Kistler teaches a class on wetland ecosystems. Students learn not only how to delineate a wetland and understand their purpose, but also the role wetlands play in One Health—for example, how restoring a wetland can also improve animal health and the health of a larger ecosystem. 
It's a lesson students are now experiencing first-hand, as the world continues to grapple with a global pandemic. 
"People who are interested in ecosystem health and management should have more respect and recognition for their work and have a seat at the One Health table," Shock added. "You can't really understand the origins of a pandemic or a disease without really understanding the whole picture."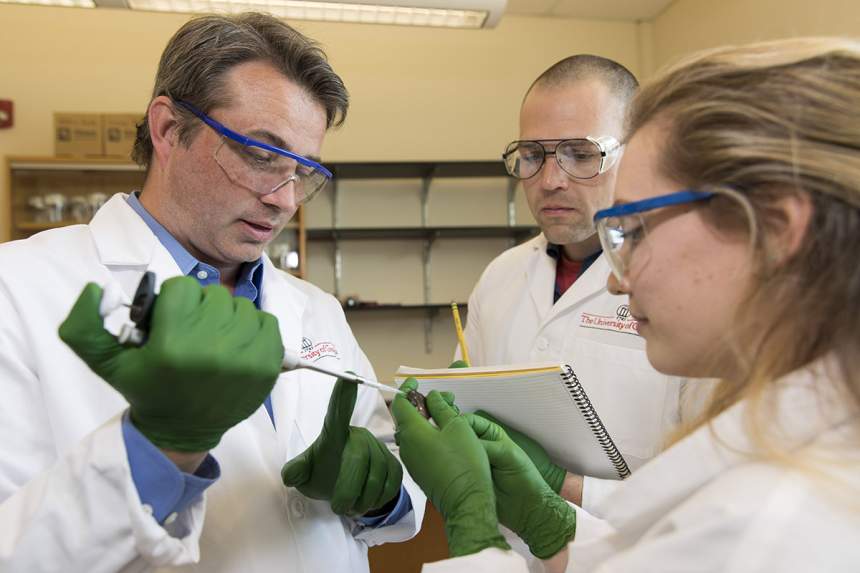 Learning opportunities 
Warnell faculty are at the backbone of the pre-veterinary wildlife sciences program, with research that investigates the nexus of human and animal diseases. But wildlife is always at the heart of their work. 
"Anybody who works on wildlife populations should have some understanding of wildlife health—and most do," says Sonia Hernandez, a professor of wildlife diseases with a dual appointment with Warnell and the UGA College of Veterinary Medicine. "How wildlife health fits into human and environmental health takes a bit of extra effort to connect the pieces together. But my graduate students—and those working with Michael Yabsley, Tracey Tuberville and Jim Beasley, among others—get that a bit more. The reason I have it so present in our arena is because the mission of SCWDS is to solve wildlife problems within the context of One Health." 
If One Health is the crossword puzzle, SCWDS is the set of clues that help fill in the blanks. 
The Southeastern Cooperative Wildlife Disease Study—SCWDS—is a partnership between 19 states. The lab is tasked with investigating wildlife diseases that represent a broad range of animals and habitats—think chronic wasting disease in deer, avian flu in turkey vultures or new pathogens in invasive ticks as just a sampling of what might move through the lab on a given week. If a wild animal has died under uncertain circumstances, it's sent to SCWDS for investigation; if a state agency wants to investigate a particular pathogen or potential outbreak, SCWDS will likely get that call. "SCWDS investigates wildlife health and disease issues and all our reports to the wildlife management agencies must contain the significance of the wildlife health to livestock/pets and human health," says Hernandez.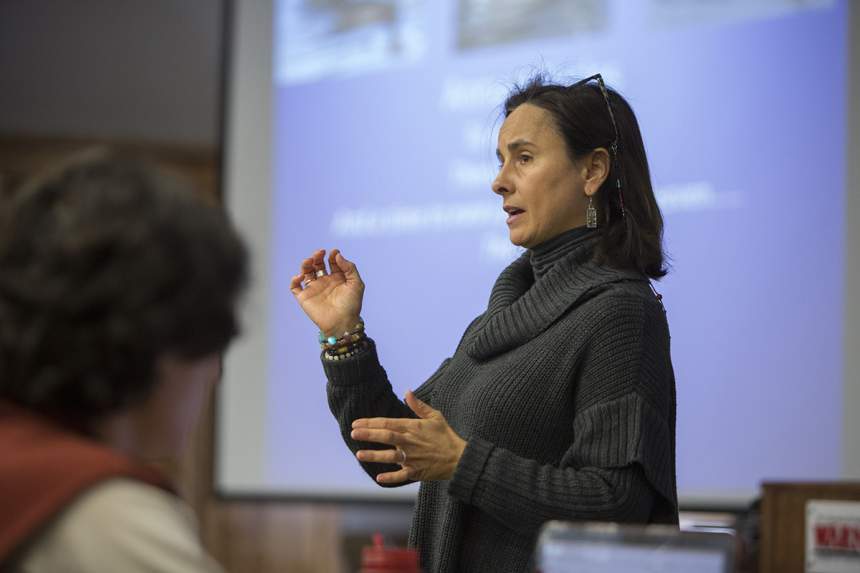 Faculty and students in the lab represent several colleges at UGA, but they all come together to work on larger questions. One Health involves being open to new ideas and concepts, and that spirit can be found among those in the lab. 
"We as a unit have our feet in multiple camps, with one being research and one being diagnostics," says Christopher Cleveland (MS '15, PHD '18), an assistant professor at the College of Veterinary Medicine with guest lecturer status at Warnell. With degrees from both Veterinary Medicine and Warnell, Cleveland incorporates One Health into all aspects of his work at the lab. 
"Veterinary medicine can drive a lot of One Health efforts because you have agricultural and domestic animals, which are going to more closely align with humans off the bat," he says. Sometimes, people don't immediately make the connection between human and wildlife health. "But there's a huge amount of potential that we may not see in (veterinary medicine) because these animals are not so closely monitored. ... The outcome is, there's a lot more inherent risk in wildlife when it comes to pathogens and understanding what's going to happen there, with the intersection of humans and the environment." 
Hernandez says she presents these concepts to her students early on, because whether they end up at Warnell or pursuing a medical degree or going a completely different direction, it's important for the public to be aware of these concepts. While she and Warnell wildlife professor Michael Yabsley advise many graduate students, each teaches a freshman First Year Odyssey class that introduces One Health concepts to students from a variety of majors. They, along with Cleveland, also encourage undergraduate students to get involved with the lab, even on a volunteer basis. 
"Specifically, for the Warnell students who end up coming (to SCWDS), I'll go into a class and guest lecture, or through Michael's lecture they'll catch on to something," says Cleveland. "And now I take a page out of Michael's playbook: hook those students in quick. Get them in volunteering and it builds." 
Passing the torch 
Kayla Garrett is one example of a student who, as an undergraduate Warnell student, came into SCWDS for a potentially mundane job: sorting flies. But the work had her hooked, and she returned as a master's student, working with Yabsley, to assist with his research on parasites found in skunks. Then she returned as a doctoral student to work with Cleveland on other forms of parasites. She is now a full-time lab employee while she finishes her degree.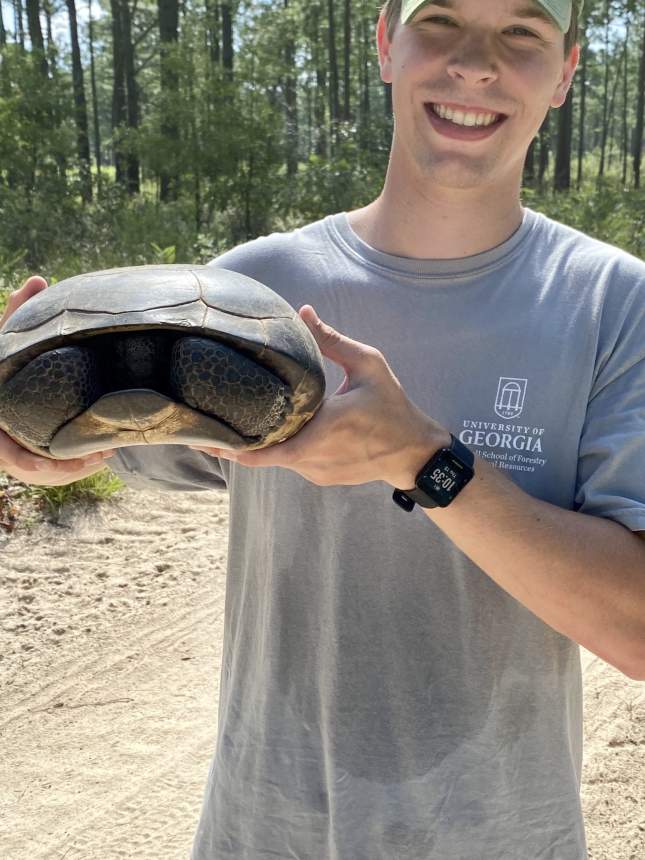 Another recent Warnell graduate, Seth Lattner, is starting his master's degree with Cleveland this fall. He will be working on a project for the North Carolina Wildlife Commission that could help improve how viral samples are taken in the field. "Seth was an outstanding student, and wildlife diseases and wildlife management was his interest," adds Cleveland. 
Corinna Hazelrig (MS '21), a D.V.M.-Ph.D. student in the College of Veterinary Medicine, spent a good portion of her time as a Warnell student in the SCWDS lab. As she pursued her degree with an emphasis in pre-veterinary sciences, she says the research opportunities at the lab gave her a better understanding of how wildlife diseases fit into a larger health context. 
"Warnell's pre-vet wildlife sciences major and program is an excellent trajectory for students interested in wildlife diseases, conservation medicine, zoological medicine and/or wildlife medicine," says Hazelrig. "It allows you to further understand the requirements of applying to veterinary medical programs yet understand the other career paths available and how to communicate with professionals in related fields." 
In their faculty positions at another institution, Shock and Kistler continue the collaborative spirit they encountered at SCWDS while also infusing classes with One Health lessons. Put simply, they say, it makes good ecological sense.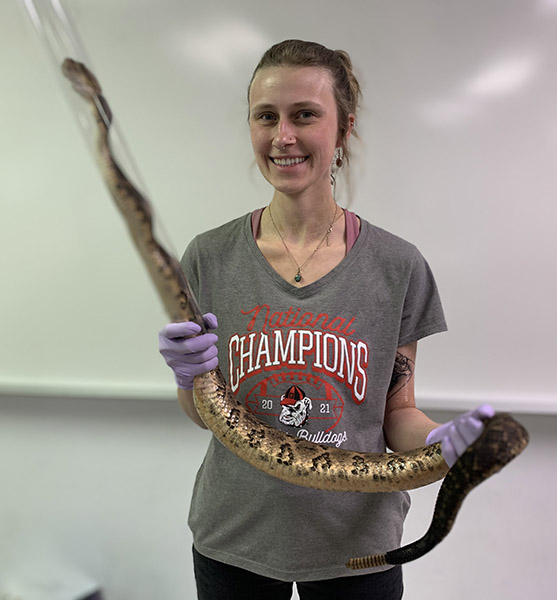 "Our experience at SCWDS, where a lot of the faculty are split between Warnell, (Odum School of) Ecology and UGA CVM, helped us to be able to interact in a collaborative environment," Kistler says. "I think that's one thing that really helped when we started at LMU, in teaching and getting students involved in research. We know to reach out across different schools at LMU and say, 'We do wildlife disease work, we can help if you want to sample shelter animals for potential pathogens that can cross species barriers.'" 
Digging deeper 
Research undertaken by Warnell faculty in conjunction with SCWDS also reflects these collaborations. For example, Yabsley is studying guinea worms, a parasite that passes from dogs to humans, and tick-borne pathogens. Hernandez is investigating the urbanization of the white ibis and Salmonella contamination—another topic with public health implications.  
In addition to long-term research, students and faculty may find themselves working on a variety of projects on any given day. For example, on a recent Friday a student lab worker was sorting parasites taken from foxes and coyotes recovered in Pennsylvania; another student was evaluating methods for veterinarians to evaluate parasites in dog feces.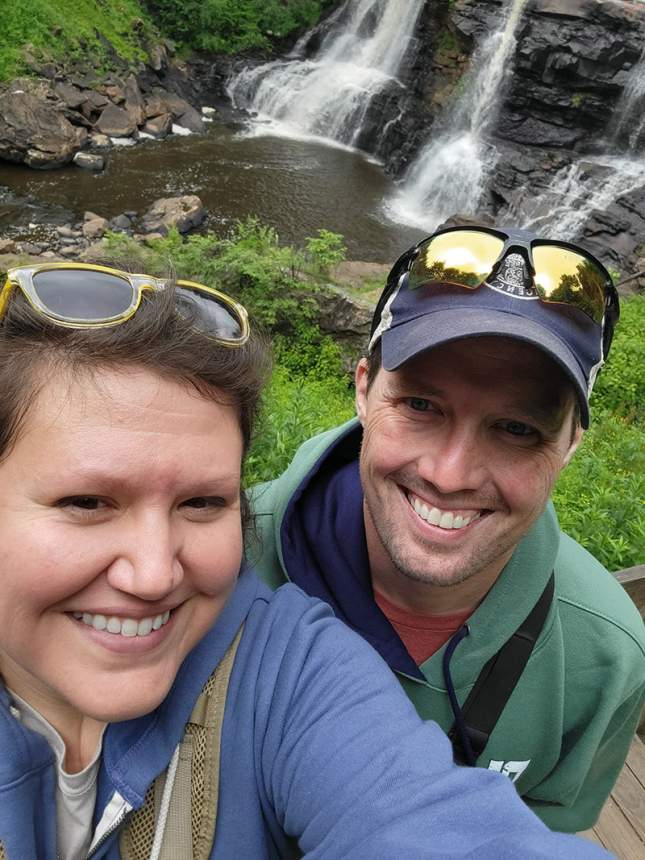 The range of projects means faculty and students need to consider both the big-picture possibilities as well as the details. One Health helps provide the framework for this, whether it's investigating a particular parasite in one area, or a disease affecting a large swath of a population. 
"We know the human world, animal world and ecosystem world all overlap. As you step down into higher degrees of detail, things are changing that we might not be aware of," says Cleveland. He points to a particular kind of parasitic worm that can live in white-tailed deer without any health effects. But if it's transmitted to other species, such as mule deer, moose or elk, it can cause neurological damage and death. 
"There could be differences across the landscape that are changing in response to climate change, which are driving the snails—the intermediate hosts of the worm—to change. If we don't look hard enough, we're going to miss some of these smaller details that are driving these larger patterns," he adds. "So, if white-tailed deer are expanding in range and they are getting really good at being abundant, yet we've got mule deer or black-tailed deer or moose and white-tailed deer are moving in there, now we've got a problem." 
How much of a problem? That depends on rainfall or whether the climate is hotter or colder—variables that could affect whether the worms hatch or stay dormant. 
This is why, says Yabsley, he and the other faculty associated with wildlife health try to give students many examples of these interactions. As climate patterns and wildlife populations shift, those who study wildlife health need to be prepared. 
"They can be good indicators of an imbalance, they can be victims of an imbalance, or they can sometimes be responsible for the maintenance of certain pathogens," he says. "So, we're aware of all these issues when we study wildlife." 
Between the diversity of students who come to work in the lab and the variety of projects tackled there, says Yabsley, it creates an atmosphere centered on animal health, with a heavy dose of environmental sciences, diagnostics and creativity. Some students are drawn to the pre-vet program at Warnell with very specific career goals in mind, while others discover it after exploring environmental- or animal-based programs in other colleges. 
Still, once at SCWDS, they find faculty mentors and projects to help them find a path that connects wildlife with larger concerns of health and the environment. 
"What I've been trying to teach them is, as wildlife biologists, you should care about wildlife health, and what you should do to maximize the health of wildlife populations, from a disease standpoint," says Yabsley. "Students are learning about management and populations from other classes, but the disease aspect is just a piece of the puzzle—so, I hope they get an appreciation for why it's important."