Nestled in the "wheat-sheep" belt in Australia, a couple hours inland from the more populated coast, there's a garden of eucalyptus trees. They've been assembled here, in this agricultural region, to fulfill a need.
They were sourced from across the country where they were once widespread—but now are highly fragmented and reduced to a fraction of their pre-colonial distribution. Generations ago, the Australian government offered settlers land in exchange for clearing the forests. The echoes of this policy for "improvement" still resonate across the open fields, but today farmers and tree restoration organizations are joining together to restore forests in this agricultural region.  
And the collection of eucalyptus, called a common garden, will help make that happen. 
"Planting trees in low-production areas helps with water retention, erosion control and habitat connectivity to support wildlife biodiversity," said Helen Bothwell, a new faculty member at UGA's Warnell School of Forestry and Natural Resources. "As a spatial modeler and conservation scientist, that's something I'm really interested in—how can we recreate these corridors so that we're connecting, say, national forest areas that are good habitat for organisms? How do we create corridors through that matrix of farmland so wildlife can access those larger habitat patches?"
Using land that wasn't ideal for farming is one way to start.
"Planting trees along creek lines and steep ridges where it's not profitable to farm anyway offers a great opportunity to boost biodiversity, while also improving soil quality and water retention. And at the same time, not cutting into the farmers' bottom line," said Bothwell. The common garden becomes a resource for this. "We're climate testing the trees to best match source populations with new restoration sites. As the garden matures, it will provide a valuable source of diverse, wild seed to support reforestation efforts."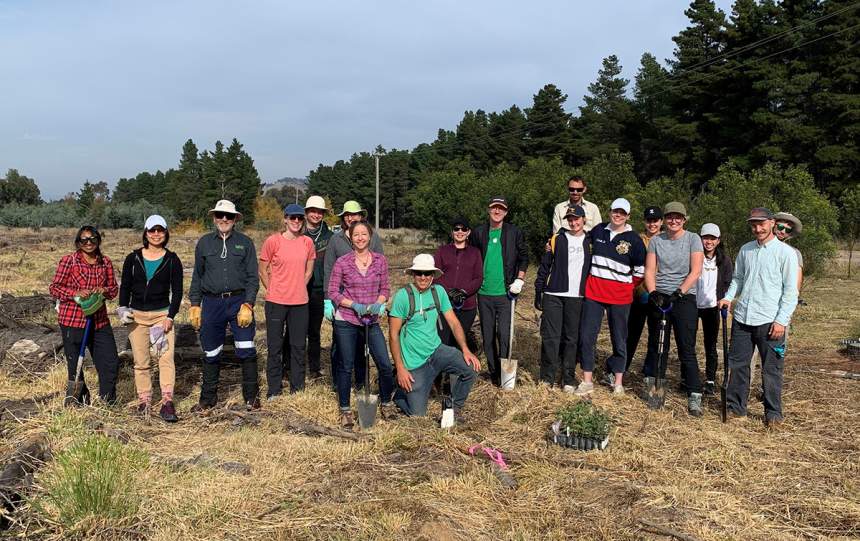 Bothwell comes to Warnell from the Australian National University, and her work looks at how landscape and climate factors have shaped spatial genetic structure and gene flow. By starting a common garden, she was able to connect her three main areas of expertise: spatial analysis, genetics and conservation.
"If you look on the landscape, there's a huge amount of trait diversity in trees—height, leaf chemistry, what insect communities they're supporting, variation in photosynthesis and drought response—and we don't know if that's simply due to environmental variation or underlying genetics," she said. "But if we collect seed from all over the landscape and plant the seedlings in a common garden, we take away that environmental variation. What's left is the genetic variation."
The common garden creates a level playing field, so varieties of trees sourced from different parts of the country all must contend with the same cold temperatures or drought conditions or sunny spring days.
From there, Bothwell and her research partners are working to understand the amount of genetic variation that exists among the trees for ecologically important traits, like adaptation to drought and frost tolerance, so they can best match future restoration stock to the climate challenges of tomorrow. Eventually, seeds from those with desirable traits will be collected and used to optimize reforestation on less-productive farmland.
The farmers understand the importance of replanting—many have been on the land for five or six generations and have a lot invested in its success. Their sheep are drawn to the shady refuge on hot summer days. And re-forested farm patches that retain run-off and boast rich grass cover in contrast to a neighbor's parched fields and erosion gullies are potent advertising for a better way forward. Even small tree plantings across the agricultural landscape can really boost the overall biodiversity of the region, she said.
While she's relocated back to the United States, Bothwell plans to continue working with her collaborators in Australia. Eventually she would like to send students there to continue research in the common garden trial as the trees mature. The long-term goal is to learn more about how trees adapt to climate and the genetic basis of those traits.
In Australia, eucalyptus is a "model" tree species, allowing scientists to dig into the underlying genetic architecture and mechanisms driving trait variation. Now that she's in Georgia, Bothwell is interested in shifting her work to another model species, such as live oaks.
She is also partnering with several Warnell wildlife faculty members on projects that analyze genetics and spatial modeling. One project involves the ruffed grouse population in North Georgia, and another is analyzing Georgia black bear DNA.
But the common garden, a long-term project, will continue to call her down under.