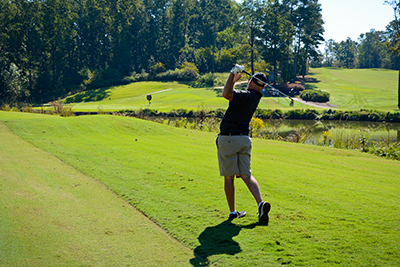 The Warnell Homecoming Golf Tournament is dedicated to the memory of Reid Parker for his commitment to Warnell and its students. This longstanding event is typically a highlight of the year, and we are excited for it to return this year to the UGA Golf Course! 
Since 2008, Warnell's Young Alumni Committee has raised more than $440,000 to support the school through the golf tournament with the support of matching funds from the family of J. Reid Parker. These funds have been used to create three endowed scholarships, update a classroom, and support numerous other school priorities. In the last eight years, these three scholarship endowments have generated scholarships for 106 students, all thanks to your support! 
This year, funds from the tournament will complete an endowment created by the Young Alumni Committee to fund a Warnell student intern to deliver "learn to hunt" programs for all Warnell students and begin a new initiative provide funding for increased student engagement opportunities. These programs encourage Warnell students to network and form lasting connections with each other as well as faculty, staff, and alumni, helping them be more successful in future careers.
This event is part of Homecoming Weekend.
Silver Sponsorship: $250 ($250 tax deductible)
Acknowledgement in The Warnell Log magazine
Recognition on event website
Recognition at tournament
Gold Sponsorship: $500 ($370 tax deductible)
Everything mentioned in Silver Sponsorship
Registration for 2 golfers
Hole signage with name and/or logo located on the course
Platinum Sponsorship: $1000 ($740 tax deductible)
Everything mentioned in Gold Sponsorship
Registration for team of 4 golfers