The 330 acres designated as Thompson Mills Forest were deeded to the University of Georgia in 1980 by Lenox T. Thornton, of Braselton, Georgia. The forest was named in honor of the Thompson Mills community, a prominent agricultural center at the turn of the century. Mr. Thornton donated the land to:
provide teaching and research opportunities to the students and researchers in dendrology, ecology, silviculture and forest biology.
establish an arboretum of native and exotic trees
provide Georgia citizens and visitors an opportunity to study and enjoy the abundant plants of the region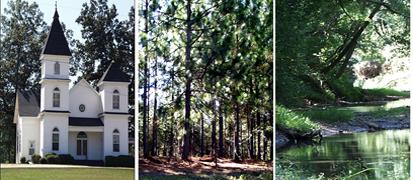 Through the efforts of Dr. Claud Brown, founder of the Thompson Mills Forest, the Georgia State Legislature designated Thompson Mills as the State's official arboretum in 1991.
Maps
Features

The pinetum has one of the most varied and valuable collections of gymnosperms in North America. It includes all the native conifers of Georgia and more than 100 species of gymnosperms from 27 countries. The collection is valuable for students and researchers in fields ranging from dendrology to tissue culture and ecology

Granite Outcrop

The 8 acre granite outcrop occupies one of the forest's ridge tops. The outcrop supports a host of unique and interesting plants including several rare and threatened plants.

The Eva Thompson Thornton Memorial Garden lies at the entrance to the Forest. It is named in memory of Lenox T. Thornton's mother, who encouraged his appreciation of trees and nature. The garden includes more than 100 species of native and ornamental trees. 

Since 1980 more than 100 species have been added to the 80 native species already present in the forest. Currently the collection includes 90 percent of the native trees of Georgia.
Programs & Activities

Thompson Mills Forest hosts FFA. (Future Farmers of America) and 4-H dendrology teams from many Georgia counties. 

Forest Manager Bill Lott participates in other FFA activities both on and off the Forest including Soil Judging, Natural Resources Management, and the State Forestry Field Day, Macon, Ga.

 

Other groups visiting the forest include Forest dendrology classes, Cooperative Extension Service groups, church groups, and public school classes.
The Thompson Mills Forest and State Arboretum is a valuable asset to the Warnell School of Forestry & Natural Resources. Its natural diversity, existing plant collections, and interpretive programs provide educational opportunities for a wide variety of visitors.
Many types of tree natural history workshops are available at your State Arboretum.  We can custom craft educational products to meet your needs.  Please contact us to help understand the meaning of trees.