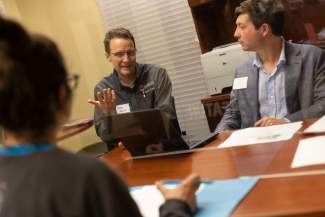 The University of Georgia's Harley Langdale Jr. Center for Forest Business integrates pioneering academic research and sound financial methods to provide education and service to forest industry, investors, and landowners throughout the world.
Established in 1997, the center's mission is to provide national leadership in education, research, and service to forest industry, private landowners, and Georgia in:
The integration of sound forest business principles and practices with contemporary biological and quantitative methods to achieve sustainable forest production
The investigation of forest resources and forest industry alternatives that are economically competitive in the global marketplace
The proposal of market-based solutions to forest resource problems and opportunities

Education
The Center for Forest Business offers a graduate-level educational program leading to a Master of Forest Resources (MFR) in Forest Business. This degree is designed to launch your career in a position of leadership in forest operations management, timberland investing, or education in the private or public sector.
Learn More About This Degree Program
Service
The Center for Forest Business serves the forest business community by coordinating and implementing the Sustainable Forest Initiative, in addition to hosting regular educational conferences in forestland investing, economics, and finance. This program oversees several continuing education initiatives:
We also produce products to assist landowners and industry professionals in valuation, taxes, and other topics affecting the forest industry. Download our recent guides:
View the Full List of Publications
Research
Our research focuses on issues critical to all aspects of forest business, and especially sustaining and enhancing the competitiveness of Georgia's wood fiber supply.